How to Be a Powerful Woman, 1404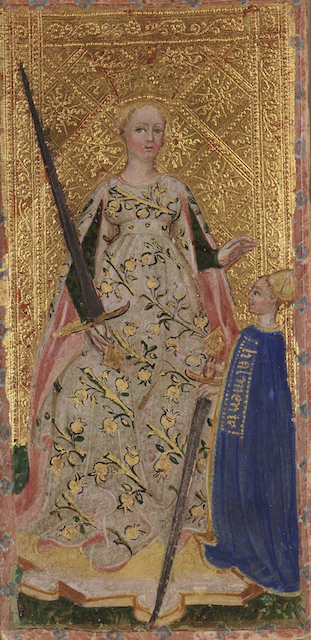 Beinecke Library, Visconti Tarot
The better and more virtuous a lady is, the greater the war Envy very often makes against her… Therefore, the wise princess, and similarly all those who wish to act prudently, will be aware of this problem and provide themselves with a remedy… If Fortune should wish to assail her in any place (as it has done and does to many good people) and she finds out that some powerful person or persons do not wish her well, dislike her, and would harm her if they could… or by their false reports would portray her badly to barons, subjects or people, she will not make any sign that she notices it nor that she considers them her enemies… She should not talk carelessly… with a heart that is large and full, a lady cannot always keep quiet about what displeases her, but if she let slip a wrong word she might ruin her whole project… in such a situation the lady inevitably gains more in the long run by maintaining so long-suffering a manner than by being vengeful. There is no doubt that this teaching is suitable for princesses and ladies but also generally for all women.
Christine de Pizan, The Treasure of the City of Ladies (trans. Sarah Lawson)
Wise princesses: putting up with everyone's crap since forever.