How to Dress Your Child, 1890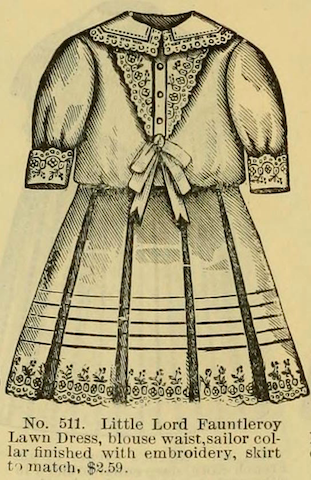 H. O'Neill & Co., Fall and Winter 1890-1
Besides one nicer suit of dress, white English nainsook and flannel skirts, it is well to have four day dresses of French nainsook; six slips of cambric, dimity or checked nainsook that answer for night-gowns, as well as the first day dresses; four cashmere shirts, four flannel bands, three barrow coats or pinning blankets, four dozen napkins, three flannel skirts, three cambric skirts, two wrappers, one flannel shawl, two crocheted sacques, four pairs of socks, a bath blanket, six bibs and a well-furnished basket…. Pure white is used for all babies – blue for girls and pink for boys, when a color is wished.
The Ladies' Home Journal
Timeless fashion rules: blue is for girls, pink is for boys, and cashmere is for everyone.