How to Grow Eggplants, 1616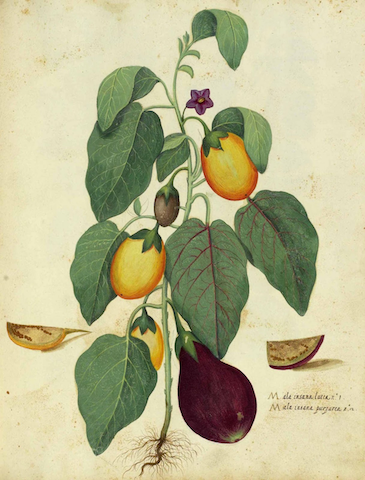 Ulisse Aldrovandi, Il teatro della natura
vol. 1-1, p. 53, University of Bologna
Manie men being verie desirous to adorne and set forth their Garden with all sorts of Plants, doe amongst the rest provide to furnish it with Apples of Love (which the Latines call Mala insana) by reason of the beautie of their fruit, which is as thick as a Cucumber drawing towards a red colour. They must be sowne in the Spring, in a fat and well battild soyle, and where the Sun hath great power, because they cannot abide any cold: they crave the like ordering and husbandrie that the Cucumber doth. Many licorish mouthes… cut them in slices, boyle them in water, and after frie them in the flower of meale and butter or oyle, and then cast upon them pepper and salt: this kind of meat is good for such men as are inclined to dallie with common dames, and short-heeld huswives, because it is windie, and withall ingendreth cholericke humors, infinite obstructions and head-ach, sadnesse, melancholicke dreames, and in the end long continuing agues: and therefore it were better to forbeare them.
Charles Estienne, Maison Rustique, or, The Countrey Farme
Do you like common dames, intestinal gas, and sadness? Try fried eggplant.