How to Care for a Newborn, 1254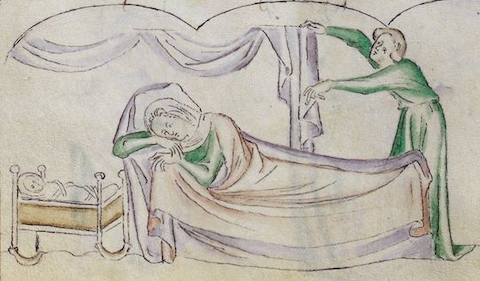 Queen Mary Psalter, BL Royal MS 2 B vii, f. 314v (1310-20)
After the woman has delivered the child, you should know how to take care of the child. Know that as soon as the child is born, it should be wrapped in crushed roses mixed with fine salt… And when one wishes to swaddle [the baby], the members should be gently couched and arranged so as to give them a good shape, and this is easy for a wise nurse; for just as wax when it is soft takes whatever form one wishes to give to it, so also the child takes the form which its nurses give to it. And for this reason, you should know that beauty and ugliness are due in large measure to nurses. And when its arms are swaddled, and the hands over the knees, and the head lightly swaddled and covered, let it sleep in the cradle.
Aldobrandino of Siena, Regimen for the Body (trans. Faith Wallis
Don't worry: caring for a newborn is as easy as curing a ham. Just salt it with some aromatics, arrange it nicely, and wait for it to age.