How to Drive an Electric Car, 1896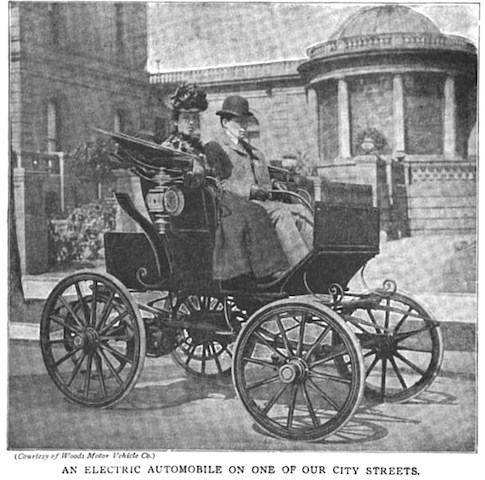 Such a motor is odorless, almost without vibration, and is practically noiseless. It can run with great speed and climb almost any hill road so long as it is smooth… When the battery is empty it may be recharged again at electrical stations maintained for the purpose, after which the carriage is ready for its journey once more… Aside from the device for supplying power to the wheels, there are numerous others for guiding and controlling the machine when it is under way. Near the seat of the driver are a number of switches and levers, which to one just learning how they operate are rather bewildering… The driver must keep his eyes wide open and both his feet and hands busy. With his left hand he grasps the power lever which controls the speed, while with the right he manages the steering lever. He has one heel all the time on an emergency switch that cuts off the current, and at the same time must ring a gong to warn people of the approach of his pneumatic-tired conveyance. With the other foot he manages a reversing-switch that will back the carriage, while with his toes he applies a quick brake. When he wishes to turn on the lights he presses a button under the seat. So it may be seen that he is rather busy, and can never go to sleep and let the old horse carry him home.
Henry Davenport Northrop, The Gem Cyclopedia of Universal Knowledge
On second thought, just forget all the levers and focus on ringing the gong very loudly.