How to Make a Cheesy Omelet, c. 1400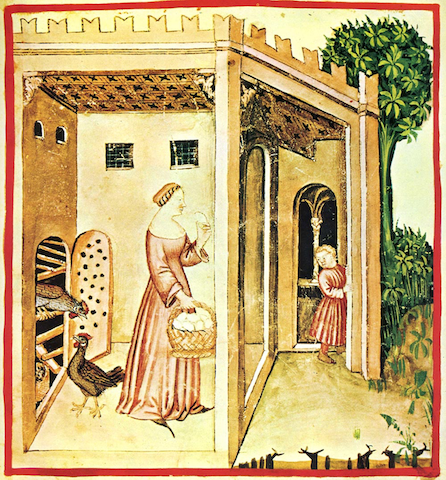 Tacuinum sanitatis Casanatense
First, heat the pan thoroughly with oil, butter, or another grease as you wish, and when it is good and hot all over, especially toward the handle, mix and pour your eggs into the pan and turn them often with a spatula, then sprinkle on some good grated cheese. Know that it needs to be put on top, because if you grind the cheese with the herbs and eggs, when you fry the omelet, the cheese on the bottom would stick to the pan. That is what happens when you mix the eggs with the cheese for an omelet. For this reason, first put the eggs in the pan, and put the cheese on top, and then cover with the edge of the eggs; otherwise it will stick to the pan.
Le ménagier de Paris (trans. Gina L. Greco and Christine M. Rose)
If we don't pay attention to the past, we are doomed to repeat its mistakes. So let's break the cycle and put the eggs in the pan before the cheese.