How to Make Instant Coffee, 1883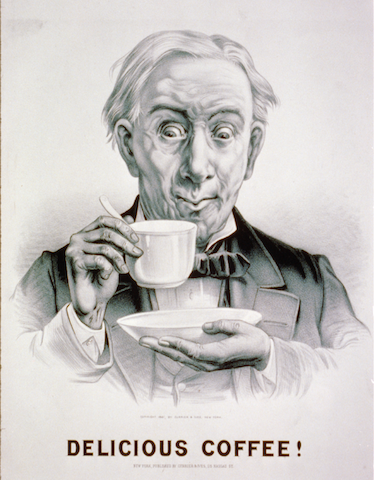 That's the caffeine talking. Currier & Ives, 1881
Procure one-half pound of the choicest roasted coffee berries you can command, let the same be ground under your own immediate eye, to prevent the opportunity of chicory or any other spurious drug being introduced among the genuine material. Submit the coffee to a clean saucepan, containing one quart of boiling water, stir it round twice or thrice with a suitably-sized spoon, adding, at the same time, two pieces of fresh white ginger. Place the saucepan over a slow fire, and let it simmer until the quantity of liquor is reduced to one pint; then strain the latter off into a smaller saucepan, and allow the liquor to simmer gently, adding to it at intervals as much white sugar as will qualify the character of a thick consistent syrup, when it may be taken up, and when thoroughly cold poured into jars or bottles, stopped closely down for use. It will keep for any length of time in any climate. An individual, possessing the above confection, may command a cup of strong, genuine coffee at a minute's notice; it is necessary only to introduce two or three teaspoonfuls of the essence into a coffeecup, and fill with boiling water.
S. Annie Frost, Our New Cook Book
Handcrafted, slow-cooked instant coffee can be yours! Just make sure that unscrupulous coffee grinders don't slip any spurious drugs into your beans. That can make for a rough morning.