How to Have a Healthy Summer, 1656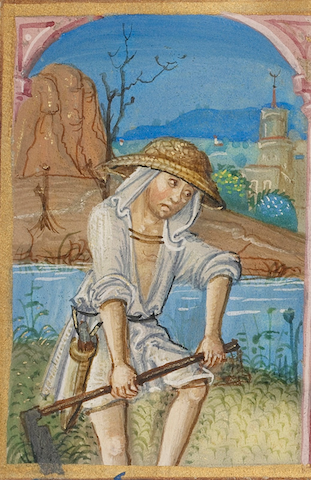 Getty Museum, MS Ludwig IX 16, f. 6r
The regiment for the time of Summer, June, July, and August. The shepheards in summer been clothed with light gowns and single, their shirts and sheets that they ly in be linnen, for of all cloath it is the coldest… and they eat light meats, as Chickens with veriuyce, young Hares, Rabbets, Lettise, Purselain, Melons, Gowrds, Cucumbers, Peares, Plumbs… They drink oft fresh water when they be thirsty, save only at dinner and supper time, and then they do drink feebl green Wine, single Beer, or small Ale. Also they keep them from over great travell, or over forcing themselves, for in this time is nothing grievouser than chafing. In this season they eschue the company of women, and they bathe them oft in cold water to asswage the heat of their bodies enforced by labours. Alway they have with them sugarcandy or other Sugar whereof they take little and often.
The Shepheards Kalender
Ah, summer: season of cool linen, refreshing vegetables, and &#$*% chafing.