How to Improve Your Brain, 1596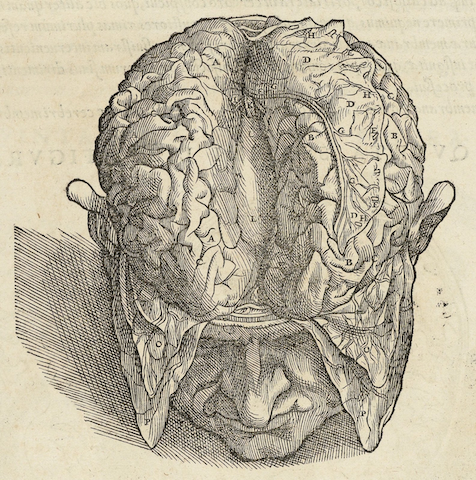 Andreas Vesalius, De humani corporis fabrica, 1555
Wellcome Library, London
A Rule to knowe what thinges are good and holosome for the Braine.
To eate Sage, but not overmuch,
To drinke Wine measurablie,
To keepe the Head warme,
To washe your Hands often,
To heare litle noise of Musicke or Singers,
To eate Mustarde & Pepper,
To smell the sauour of Red-roses, & to washe the Temples of your Heade often with Rose-Water.
These Thinges are ill for the Braine.
All manner of Braines,
Drunkennes,
To stand much bare-headed,
Overmuch Watching,
Overmuch Bathing,
Cheese,
Garlicke,
Overmuch Knocking or Noise, & to smell a white Rose.
A Rich Store-House or Treasury for the Diseased
A bouquet of white roses: the floral equivalent of a concussion.